Back to the blog
Ditch Dead-End Jobs: How ZI Offers Long-Term Career Advancement and Stability in Manufacturing
Feel like you're constantly starting over at different companies?
You're not alone.
More companies are struggling to retain employees, leading to high employee turnover that slows productivity and lowers employee morale.
That's why Zekelman Industries (ZI) gives teammates reasons to stay, with unmatched growth and career advancement opportunities in manufacturing. People might start for the job, but they stay for the career.
"I don't think when people walk in the door in this day and age that they think, 'I'm going to work here for 30 years,'" says Rachel Cyphert, director, human resources at ZI. "But very quickly, once they join our team here, that is the mindset that people take on."
ZI leaders cultivate that growth mindset by encouraging our teammates to always learn new skills and improve upon their existing strengths. Case in point? Seventeen years ago, Alexis Lopez joined ZI as an entry-level line operator. He's since been promoted into several positions across the company and now works as a plant training manager, supervising teams at our new Wheatland/Western Tube facility in Rochelle, Illinois. "One of the best things about this company is the tremendous growth opportunity," Lopez says.
An example of that opportunity is ZI's tuition reimbursement program, which enabled Lopez to get his associate's, bachelor's and master's degrees while still working — converting his skills and determination into momentum for career advancement.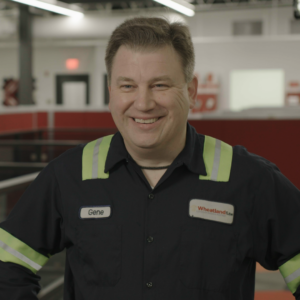 And he's not the only one. ZI also paid for Gene Metro, quality assurance manager at Wheatland Tube, Wheatland, Pennsylvania, to get his MBA. "That was a big deal — to be able to get my MBA while I'm working here," he says.
From Hire to Inspire
Continuing education is one of the many ways ZI creates a career path for teammates through upskilling and career advancement.
Every ZI teammate has a path to grow — and even pivot — in their careers. Sometimes that means exploring options they didn't even know existed in the manufacturing sector. As Dana Scott, director of production planning, ZI, explains, "Manufacturing encompasses all different areas, from finance to sales to production planning to supply chain."
For example, Alejandra Ortiz, a truck loader at Wheatland/Western Tube, has spent the last decade working in warehouses, operating many different types of equipment. She's relatively new at ZI, though, and she's exploring the idea of advancing her career in other areas within manufacturing, specifically in either marketing or engineering. "I feel like I definitely got my foot in the door with a great company," Ortiz says.
As Cyphert explains, "We are trying to create a culture where employees think, 'I get to go to work today,' and not, 'I have to go to work today.'"
Find your long-term fit. Still dreaming of a long-term career with a single company? Check out our Careers page to see ZI's latest job openings.
Tags: career advancement, careers, Domestic Manufacturing, Manufacturing Careers, upskilling, Zekelman Industries