Back to the blog
Import OCTG Continues the Onslaught
Over the past couple of weeks, the Oil Country Tubular Goods (OCTG) markets have started showing positive signs: the rig count has apparently reached bottom, inventory levels appear to be in better shape, and import shipments seem to be declining.
But wait a minute, are import shipments really declining and inventory levels returning to historical norms?
There are certainly many who would have us believing so, and recently, there's been an increased effort to distort these facts and skew public opinion about the actual amount of import shipments, in addition to the state of the oil and gas industry.
However, a closer look at the numbers exposes the turmoil that still exists within the supply chain. The cause: a continued influx of OCTG imports being dumped in the United States.
Since my last blog post, some individuals have mentioned that I'm waving the American flag against import products based solely on emotions. Instead of simply talking about my feelings, let's look at the facts supported by real numbers.
While import tons have been declining month-over-month, showing a modicum of responsibility by importers and foreign mills, it should be noted that YTD (through May 2015) imports in total import tons have increased compared to the same period in 2014, according to data from the Preston Pipe & Tube Report. This increase is in spite of the eight-month stretch of depressed oil prices.
Such a lengthy down market should have given our exporting mills ample time to adjust production to match market conditions. However, adding to the confusion of a depressed market, duties were placed on many of the leading importing producers, including South Korea.
So why haven't the foreign mills reduced production to match the market? The answer is simple: mills exporting to the United States want jobs in their countries, not ours!
Domestically, producers reduced shipments 47 percent in 2015 compared to 2014 (YTD through May). What's more, year-over-year consumption has decreased approximately 800,000 tons (YTD through May 2015) and domestic mill shipments are down approximately 750,000 tons. Unsurprisingly, imports have increased about 10,000 tons.
The domestic industry, which historically represents approximately 50 percent of the market, absorbed 100 percent of the impact of the down market. The result: thousands of high paying American jobs were lost.
Import Shipments into the USA
Source: Preston Pipe & Tube Report
The impact of foreign mills increasing shipments in a down market, and domestic mills reducing production to attempt to balance supply and demand becomes clear when you look at market share numbers.
Import market share as a percentage of total shipments jumped from 50 percent in 2014 to 65 percent in 2015.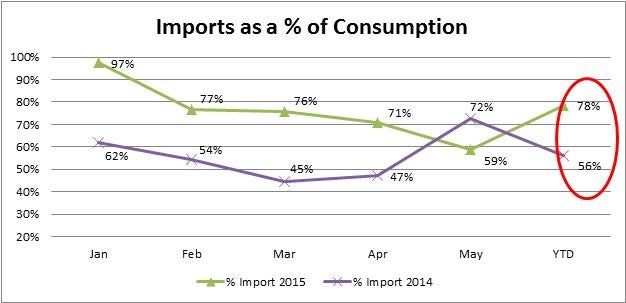 Source: Preston Pipe & Tube Report
Imports as a percentage of OCTG consumption is off the charts, with the year-to-date average of import shipments equaling 78 percent. This is significant because on-hand inventories cannot be reduced when shipments exceed consumption. This ultimately results in additional decreases in the domestic producers' market share.

Source: Preston Pipe & Tube Report
The increase in imported tons is destroying domestic OCTG producers. And the damage doesn't end there. The entire supply chain is compromised by the actions of import products. Distributors will continue to be subjected to inventory devaluation, and distributors that buy material one month will have to write down its value if the market continues to be over supplied by unfairly traded imports.
The laws of economics are simple and absolute. If demand decreases and supply increases, prices must drop. Furthermore, the decline of domestic OCTG production reduces sales by domestic flat roll producers, triggering industry-wide layoffs.
Our trade laws are in the process of changing and we can only hope that these changes will Level the Playing Field (read more about the Level the Playing Field Act legislation here) in aquick, cost effective manner. If not, import OCTG (along with other import products) will continue to cause serious injury to the entire steel industry.
Support U.S. manufacturing to minimize the risk tied up in inventory
I urge you to educate your House and Senate representatives about what imports are doing to the steel industry in the United States. We've seen changes in the trade laws in a short period of time, but we cannot allow this injury to continue.
As a community, the steel supply chain is impacted tremendously by the over-supply of import OCTG products. We must increase awareness surrounding the problem so our government begins to force foreign countries to play by the rules.
U.S. manufacturers need to be better than ever, specifically in terms of reliability and cost effectiveness. As domestic producers, we can provide shorter lead times and less risk by keeping inventory right sized. We need to make sure our customers know this. Additionally, less inventory in the supply chain allows energy producers to be more flexible and cost effective, which ultimately benefits our customers.